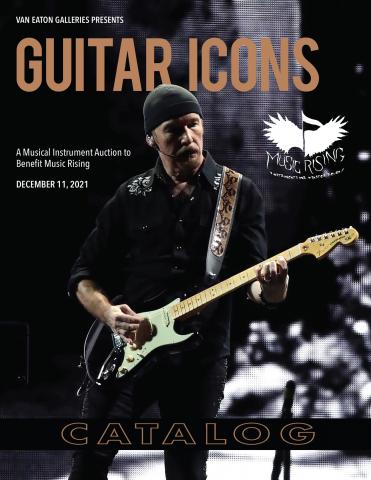 Production:
Studio:
Art Type:
Medium:
This is a softcover catalog for our December 2021 "Music Risng" benefit auction. This gorgeous collectible reference catalog measures 11" x 8.5" and features stunning full-color imagery for the 50 unique musical instruments and prints available in the auction, detailed across over 80 pages.
Van Eaton Galleries is proud to present Music Rising, an exhibition and auction to benefit musicians of the Gulf South. This incredible auction brings many of the greatest musicians of the last several decades together to help support struggling musicians that were devastated by the Covid-19 pandemic and by Hurricane Ida.
The Edge, lead guitarist of the world renowned rock band U2, along with band producer Bob Ezrin, are co-founders of Music Rising, a charitable organization whose mission is to aid struggling musicians in the Gulf South region of the United States in the aftermath of catastrophic life events.
To help support this cause, guitars and other artifacts were provided by U2's The Edge, Elton John, Rush's Alex Lifeson, The Rolling Stone's Ronnie Wood, Guns N' Roses' Slash, Kings of Leon, The Velvet Underground's Lou Reed, and many others. The collection contains a plethora of concert-used instruments and personally-owned artifacts from these industry legends.