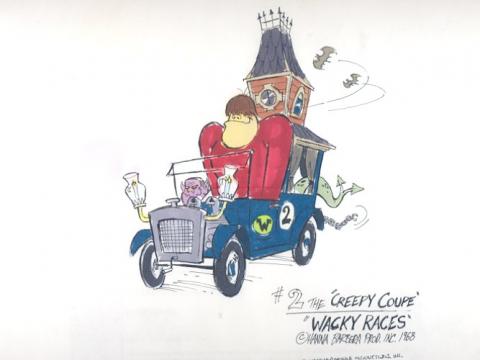 Character(s):
Production:
Studio:
Art Type:
This is fantastic original presentation/publicity art for Wacky Races (1968). The artwork is dated 1968 and was probably done as presentation of licensing artwork for the series. Artwork such as this is extremely rare. The entire piece measures 10.5" x 12.5" and the image measures 6" x 7". This artwork is featured in Jerry Beck's book "The Hanna Barbera Treasury" (page 136).
This piece was exhibited at the Norman Rockwell Museum in Stockbridge, MA for their 2017 exhibit, "Hanna Barbera: The Architects of Saturday Morning."
THIS PIECE WAS INCLUDED IN A SPECIAL INTERNATIONAL HANNA BARBERA EXHIBITION IN 2019/2020.