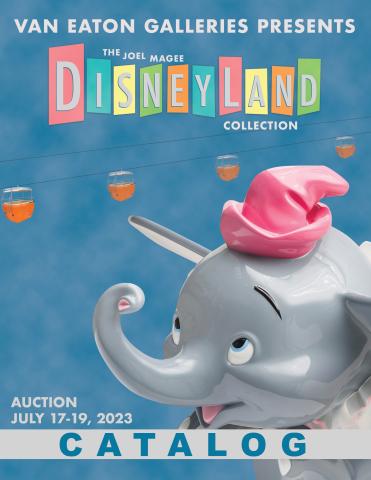 Production:
Studio:
Art Type:
Medium:
WE HAVE A FEW CATALOGS CURRENTLY AVAILABLE, BE SURE TO ACT FAST.
A softcover catalog for our July 2023 "The Joel Magee Disneyland Collection" auction. The gorgeous collectible reference catalog measures 11"x8.5" and features lovely full-color imagery for the 1600 amazing items available in the auction, detailed across more than 300 pages. This collection is so impressive that we are currently finalizing the catalog and the cover.
Van Eaton Galleries invites you to experience "The Joel Magee Disneyland Collection," the largest privately owned collection of Disney Parks memorabilia in the world. The collection is so large, we cannot fit it into our current location! Highlights include ride vehicles, props, signage, vintage souvenirs, and the single largest collection of Disneyland Attraction Posters, including some that are the only examples known to exist.
Our free exhibition begins June 28th at the Burbank Town Center Mall, and runs Wednesday through Sunday until July 16th. The auction begins on Disneyland's 68th birthday, July 17th, and runs through July 19th. Make plans now to attend!